Dance Scottish At Home 💃
The RSCDS is putting out news, puzzles and podcasts with music for all of us interested in Scottish Country Dancing while we have to stay at home.
Coronavirus
It is with great regret that all RSCDS BHS Border Branch Classes and Events have been cancelled until further notice.
This wasn't an easy decision for the Branch Committee to make but having considered the number of elderly folk involved, the close proximity and handing involved in Scottish Dancing, together with the enclosed indoor environment, we feel that we are doing the right thing. Other classes and events are being cancelled locally and all over the world.
BUT, please note that individual clubs are making their own decisions so please check with any you normally attend to see if they are still running normally.
Scottish Country Dancing is a form of social dance enjoyed worldwide. The dances are danced in groups called sets, normally of three or four couples. It is fun and an exercise for both the mind and body. See Starting Scottish Country Dancing if you would like to know more and how to start.
Upcoming Events in the Area
See Scottish Country Dance Diary for the full list and details of events in the area.
RSCDS News
Blog
Read the RSCDS Blog for the latest news, or sign up for the newsletter at the bottom of that page.
About the Branch
The Berkshire/Hampshire/Surrey Border Branch is a branch of the RSCDS – the Royal Scottish Country Dance Society. We provide a connection and support for a number of Scottish Country Dancing clubs in the area. This area enjoys an active programme of dancing events. We offer facilities such as graded classes, teacher training, instruction and day schools.
Membership of the branch includes membership of the RSCDS and helps support the preservation and promotion of Scotland's traditional dance and music. See What the Branch does for more information on what we do and the benefits of membership.
Please follow RSCDS BHS Border Branch on Facebook to keep in touch and be informed about the Branch and upcoming dances in the area.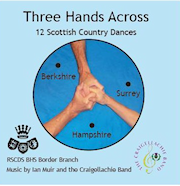 Three Hands Across
A book by RSCDS BHS Branch Members, with a CD of music by the Craigellachie Band
Now £7 for the set, £5 for the CD or £3 for the book,
email branch secretary for details
---