Scottish Country Dancing is a form of social dance enjoyed worldwide. The dances are danced in groups called sets, normally of three or four couples. It is fun and an exercise for both the mind and body. See Starting Scottish Country Dancing if you would like to know more and how to start.
Upcoming Events in the Area
See Dates of Club Events in the Branch Area for the full list and details.
RSCDS Youth Week
On Wednesday 25th January we are inviting as many young people as possible to attend our RSCDS Youth Week event. Young is under 40 these days!! If you have such dancers in your club or if your members have children of that age who have done it before or would like to give Scottish dancing a go, please tell them about the event. Experience in SCD is not needed and we shall adapt the programme to suit.
The evening is not exclusively for "young people" and our regular Wednesday dancers will be there too. Everyone is welcome. Please encourage anyone interested to come along to share the fun and the haggis. To make sure we don't run out of haggis, please ask people to let Paul know if they are coming. His email address is Paul Plummer The event will be held at St Mary's Church Hall, Park Road, Camberley GU15 2SR and it will start at 8pm.
Do please pass this on to your members before Christmas, and encourage people to come.
RSCDS News
Branch mailings are at Branch mailings.
Winter School
At Atholl Palace, Pitlochry. Book early as places are limited.
About the Branch
The Berkshire/Hampshire/Surrey Border Branch is a branch of the RSCDS – the Royal Scottish Country Dance Society. We provide a connection and support for a number of Scottish Country Dancing clubs in the area. This area enjoys an active programme of dancing events. We offer facilities such as graded classes, teacher training, instruction and day schools.
Membership of the branch includes membership of the RSCDS and helps support the preservation and promotion of Scotland's traditional dance and music. See What the Branch does for more information on what we do and the benefits of membership.
Please follow RSCDS BHS Border Branch on Facebook to keep in touch and be informed about the Branch and upcoming dances in the area.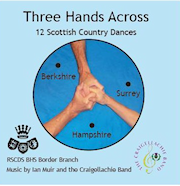 Three Hands Across
A book by RSCDS BHS Branch Members, with a CD of music by the Craigellachie Band
Now £7 for the set, £5 for the CD or £3 for the book,
email branch secretary for details
---