Scottish Country Dancing is a form of social dance enjoyed worldwide. The dances are danced in groups called sets, normally of three or four couples. It is fun and an exercise for both the mind and body. See Starting Scottish Country Dancing if you would like to know more and how to start.
Upcoming Events in the Area
See Scottish Country Dance Diary for the full list and details of events in the area.
Volunteers needed for practice classes
Help candidate new teachers practice their skills - and get some good tuition plus tea and cake in the process! The classes are held at Collingwood School in Wallington. Please see Volunteers Wanted
RSCDS News
Branch mailings are at Branch mailings.
Have a look at the first edition of the RSCDS video blog at The RSCDS vlog: Part One
RSCDS Winter School in Pitlochry
Sunday 18th to Friday 23rd February 2018 at Atholl Palace Hotel and other locations in Pitlchry. Booking now open. See Winter School. This is a popular event and usually sells out quickly so book early to secure a place.
About the Branch
The Berkshire/Hampshire/Surrey Border Branch is a branch of the RSCDS – the Royal Scottish Country Dance Society. We provide a connection and support for a number of Scottish Country Dancing clubs in the area. This area enjoys an active programme of dancing events. We offer facilities such as graded classes, teacher training, instruction and day schools.
Membership of the branch includes membership of the RSCDS and helps support the preservation and promotion of Scotland's traditional dance and music. See What the Branch does for more information on what we do and the benefits of membership.
Please follow RSCDS BHS Border Branch on Facebook to keep in touch and be informed about the Branch and upcoming dances in the area.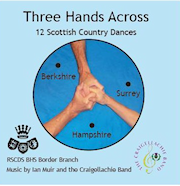 Three Hands Across
A book by RSCDS BHS Branch Members, with a CD of music by the Craigellachie Band
Now £7 for the set, £5 for the CD or £3 for the book,
email branch secretary for details
---